Seasonal Coffee Artist Series: Fall with Maya Wysocki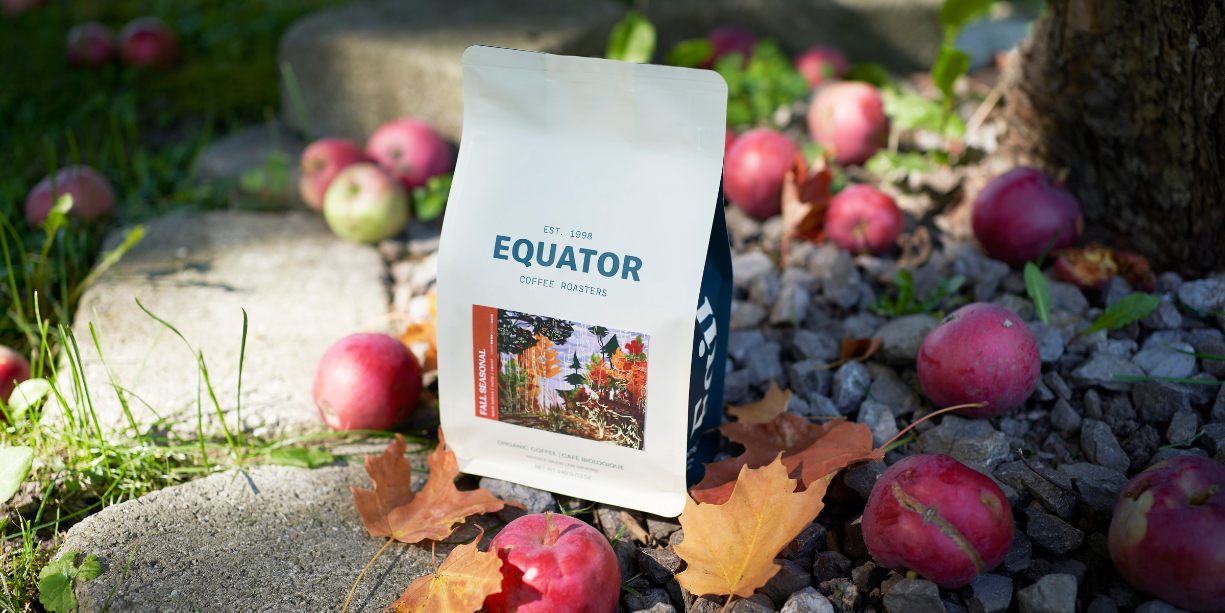 For those of you familiar with our Equator Coffee Westboro location, you are likely already acquainted with the artwork of Maya Wysocki if you caught her beautiful bouquet painting decorating its walls last September. Or you may have caught her work earlier this year when she painted a gorgeous mural of Equator Coffee Westboro in
the Westboro location itself to give off the coziest coffee-sipping vibes. Here Maya is welcomed back in our Seasonal Coffee Artist Series with her stunning label for our fall blend.
Seasonal Coffee Artist: Maya Wysocki
Long-time Instagram followers of Maya Wysocki may recognize the fall blend label artwork was actually used for a different purpose initially. This is what Maya had to say when she posted it on March 26, 2022.
"Recently finished my largest commissioned painting to date. For the amazing @kristaweatherall and @benstooke for their first home together ❤ ️ Thanks for giving me so much freedom with this piece, I'm excited for it to move to its new home today!!! This was my first time working on anything bigger than me, also figuring out how to make portions of the canvas glow in the dark; I learned so much over the course of the year that I worked on this piece. What an awesome milestone for 2022!"
With the lively autumn hues used for the swaying trees and the sweeping white strokes of the cute animals and spirits in this whimsical scene, this fall blend label is a delight to take in as you prepare your coffee. Maya's artistic inspiration comes from the East Asian/Western cartoons she used to watch as a child. 
To keep up to date on Maya's work, you can follow her on Instagram at: @mayawdraws
And if you have any questions for our talented artist, you can contact her at: wysocki.maya@gmail.com
You can find Maya's art on our Equator Fall Blend coffee – available at our cafés and online. Be sure to stock up and get some for your loved ones before the winter holiday season rolls around mid-December.
Tasting Notes And Flavors
As for the brew, the fall blend consists of two organic washed process coffees that feature a harmonious combination of warm spices and a sweet nuttiness at a medium roast (our roast level 4). These tasting notes work wonderfully in homemade pumpkin spiced lattes and pair deliciously with baked goods. The coffees come to Equator Coffee Roasters from two regions: Jacaltenango, a western town in Guatemala, under the Huehuetenango name, grown at an altitude of 1300-2000 m, thanks to the Cooperativa Agrícola y de Servicios Varios Río Azul (1); and Gayo, in the central highlands of the Aceh Province of Sumatra in Indonesia, grown from an altitude of 1000-1550 m with a cupping score of 84, thanks to Kokowagayo.
The Seasonal Coffee Artist Series invites local talent to be featured on bags of Equator Coffee. Changing with every season, each limited edition coffee blend label will feature the season-related art of one artist or designer selected by Equator from the diverse communities connected to our coffee. Inquiries regarding submissions can be sent to outreach@equator.ca
References:
CoopCoffees. (n.d.). Rio Azul. Retrieved September 26, 2023, from
https://coopcoffees.coop/rio-azul/