New Micro Lot Coffee Release: Honduras Natural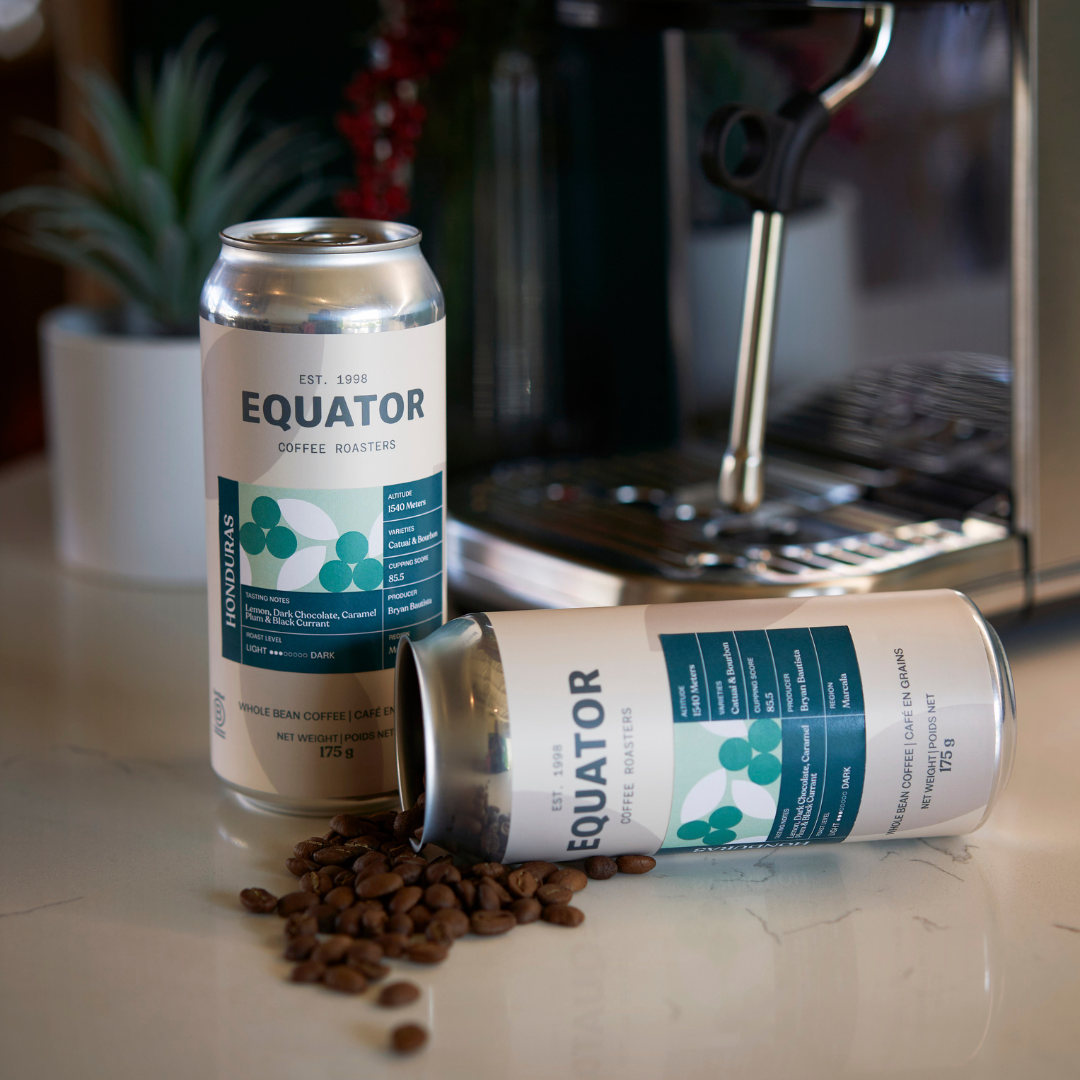 Coffee
Farmer Stories
Single Origin Series
Brought to Equator Coffee Roasters from the Muscula, Marcala region, a town in the La Paz department of Honduras known specifically for its coffee production, is our new micro lot coffee: Honduras natural. You can purchase it in-stores and online starting the last week of September until about mid-November.
What Is A Micro Lot?
Micro lot is a third wave term for unique coffee that is high-quality, sustainably produced, and traceable.
Bryan Bautista: Producer Profile
Bryan Adolfo Bautista Zelaya is a third-generation coffee farmer born in 1994 on October 29th (1). His grandparents on his father's side started producing coffee over four decades ago on their farm, Finca Adolfo's. The Adolfo name has been passed down from Bryan's grandfather to his father to him. Bryan became partners with Cooperative Coffees in 2023 and has taken his coffee to Canada and Taiwan. At an altitude of 1540 m, Bryan grows all manner of coffee varieties. The primary ones entail the two main types of Catuai, yellow and maui red, and Bourbon, also its yellow and red varieties. Orange and pink Bourbon types exist, though the former is usually shade-grown while the latter comes from Columbia (2). 
Bryan specializes in washed coffees, dry processed coffees, and honey processed coffees. Through anaerobic fermentation, he ferments coffee devoid of all oxygen in specially sealed pressurized tanks to improve the overall quality and end taste of his beans. He also grows the following coffee varieties: Pacamara, Geisha or Gesha, Lempira, and Parainema, a Honduran specialty. The Pacamara coffee variety originated through a combination of natural selection and scientific breeding that came from crossing a Typica mutation known as Maragogype with Pacas, a Bourbon mutation. The Geisha, or Gesha, coffee variety is best suited for the palates of tea lovers with its characteristic floral tasting notes of bergamot and orange blossom (3). Lempira was initially the only coffee variety grown on Finco Adolfo's until Bryan took over the family business after university and diversified the varietal production over the years. It is of the Catimor coffee variety and a cross between the Caturra and Timor Hybrid 832/1 coffee varieties (4). Unfortunately, it is a vulnerable coffee variety due to its susceptibility to coffee leaf rust. 
To keep up to date on Bryan's work, you can follow him on Instagram at: @adolfoscafe 
Tasting Notes And Flavors
The micro lot Honduras natural processed specialty organic coffee primarily features a blend of the Catuai and Bourbon varieties. Being a light roast (our roast level 3) with an excellent cupping score of 85.5, each cup showcases a playful mix of the slightly acidic black currant, plum, and lemon tasting notes along with richer caramel and dark chocolate flavors to balance it out. As such, we recommend you brew this coffee with a pour over (my personal go-to is a Chemex) for more of the characteristic bittersweetness inherent in the beans to shine through, or via French Press for a greater emphasis on a silkier, creamier, richer cup.
References: