New Product Release: Lastra Straws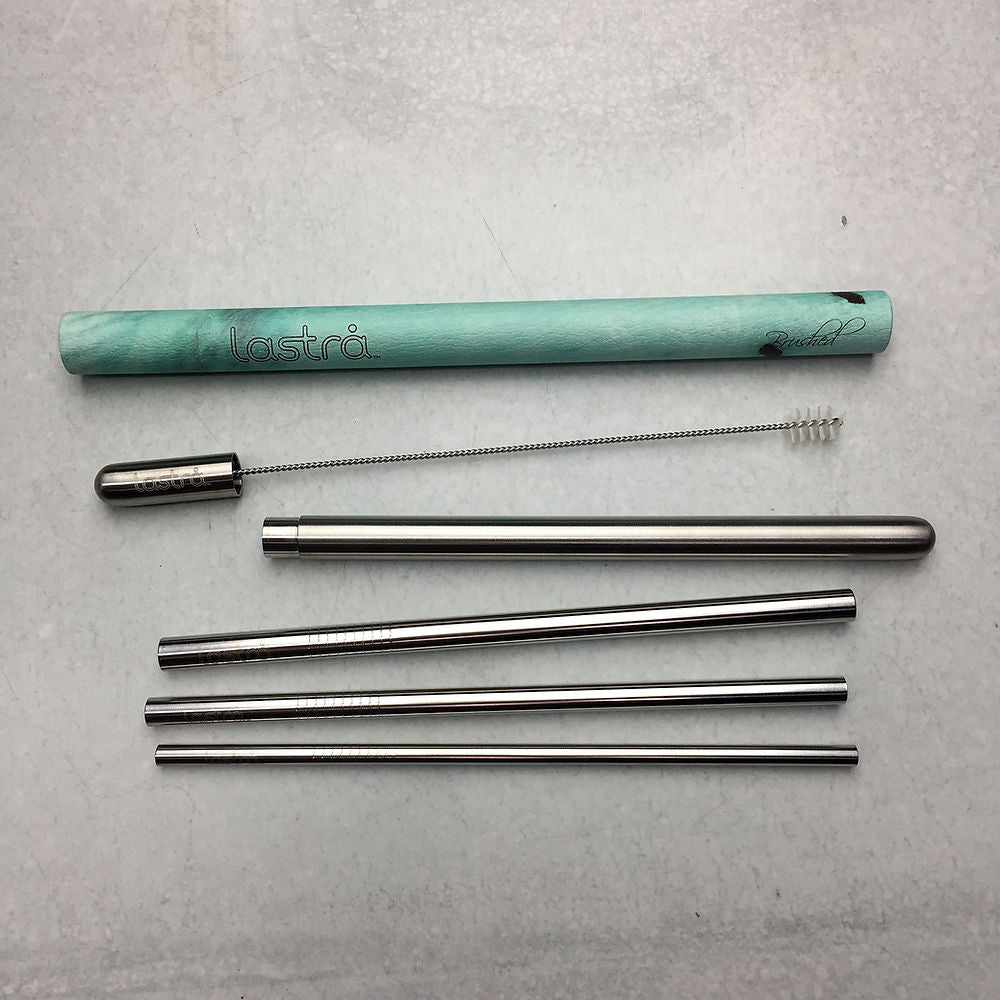 Brewing Tips
New Releases
News
This just in: Lastra straws are now available for purchase in-stores and online at Equator Coffee Roasters.
We are currently offering the traditional Lastra brushed stainless steel straw set housing as well as the compatible Lastra colored nesting straws.
Lastra Brushed Stainless Steel 
This is the first reusable straw set Lastra came out with. It was first released in 2018 by Arix Zalace, an environmental conservationalist and avid surfer. His passion to end single-use plastics by dedicating three years to researching, designing, and testing sustainable straws led to him creating his company, Lastra Life, long before the reusable straw alternative movement took the world by storm.
The set features a brushed "hairline" finish for that eye-catching matte aesthetic. It is part of the Ocean Collection that includes four other sets, all of which come in biodegradable, plastic-free packaging that is thoughtfully designed by artists to encourage its reuse. One such artist is Jonah Allen, a photographer local to the panhandle of Florida this company was founded from. She produced dazzling images of the world-class coastline as a reminder to support the protection of our oceans with the use of these products.
Being not much bigger than a single straw for your convenience, this durable silver set is built to last a lifetime and is made out of 18/8 food grade stainless steel. You'll be relieved to hear every component in this set is dishwasher safe, even the brush and housing itself.
Each set includes three nesting straws, which are held together by a cleaning brush that is built into the cap to prevent them all from spilling out when you open the set. 
Lastra Colored Nesting Straws 
To personalize your Lastra set with a more vibrant sipping experience, we offer colored nesting straws. These, and any other nesting straws, are compatible with the current traditional Lastra set as well as with any other future Lastra straw set releases. The straws are 100% stainless steel and coated with a colored titanium coating. Swap the straws out with ease if you'd like to show off a rose gold hue one day or a dazzling blue the next.
A portion of all proceeds to Lastra goes to support programs intended for public awareness of global plastic pollution or to eliminate environmental plastics. Stay conscious and sip smarter.