New Single Origin Coffee Release: Laos Peaberry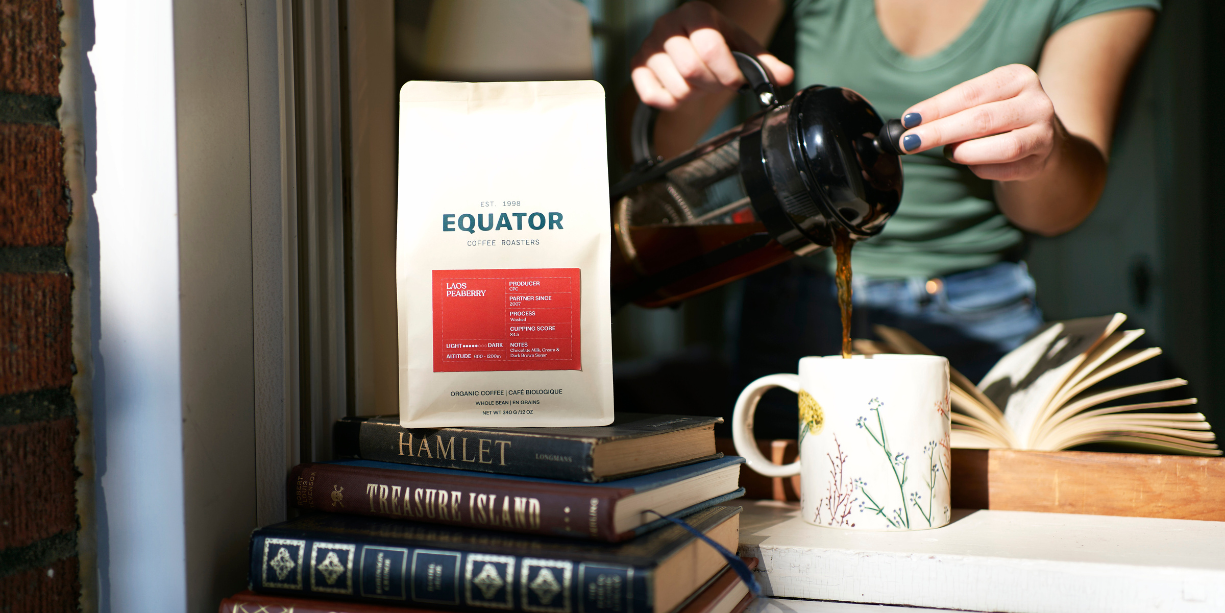 Coffee
Farmer Stories
Single Origin Series
Brought to Equator Coffee Roasters from the Bolaven Plateau, which is situated at the crossroads of the Cambodia, Thai, and Vietnam borders in Southern Laos, is our new single origin coffee: Laos Peaberry. The Bolaven Plateau is locally referred to as the "spring of Lao coffee" by its thriving smallholders.
History Of The Bolaven Plateau Coffee Producers Cooperative
The Bolaven Plateau Coffee Producers Cooperative, or Le Coopérative des Producteurs de Café du Plateau Bolavens (aka CPC and formerly known as AGPC), was created in 2007 by small-scale farmers. It was meant to help them attain improved market access and ultimately go beyond sole dependence on local trade. Luckily they received aid from the Lao government and the French Development Agency (AFD) to support their endeavors. This allowed the organization to thrive, expanding into 55 villages with the support of 1,855 coffee-growing households in just five years despite starting from virtually nothing. Following their rapid success, the CPC was awarded "Laos Best Coffee Exporter 2012" by the Laos government for exporting 603 tons of high quality green coffee that year. The region continues to impressively live up to their title with over 1,000 tons of green coffee exported annually (1). 
Current Partnerships Of The CPC
The first long-term buyer partnerships established with the CPC were CAFEMA, from Switzerland, and Malongo, from France. We have access to this coffee at Equator Coffee Roasters thanks to Cooperative Coffees. With their help, and them being the first North American importer, the CPC is determined to continue cultivating partnerships in Canadian and US markets to elevate their coffee quality. They have taken great efforts to thoroughly develop and equip every step of their coffee process from bean to cup in a timely way, such as their village processing units, their washing stations, and their tracking systems. (2)
"The most important thing about single origin is its traceability, the fact that you know exactly where your coffee is from and that it's a specific coffee, not a blend." – Andra Vlaicu, SCA, Perfect Daily Grind
Rest assured that each bag of coffee beans is noted with all of the necessary details, including weight, village name, post-drying moisture content, and the dates spent on drying beds and bagged for storage (3).
Tasting Notes And Flavors
The Laos Peaberry is a washed process coffee that yields a delicate medium-dark roast (our roast level 5). It was grown around 600-1200 m above sea level. A cup of this mildly acidic brew results in a silky body and creamy mouthfeel with decadent notes of caramel, dark brown sugar, nutmeg, chocolate milk, and raisin. Each sip is perfect to warm you up this fall as the leaves start turning and the air begins cooling. This coffee is best made via French Press, espresso, or Moka Pot for more of those deep, earthy flavors. Certified organic and featuring a cupping score of 84.5, you won't want to miss this specialty coffee. Pair it with a Fleur de Sel Chocolate Bar for a complimentary taste and lovely fruit explosion to start your day. 
References:
Bolaven Plateau Coffee Producers Cooperative. (2014). About Us. Retrieved September 25, 2023, from

https://cpc-laos.org/

 

CoopCoffees. (n.d.). CPC Bolaven Plateau Coffee Producers Cooperative. Retrieved September 25, 2023, from

https://coopcoffees.coop/cpc-bolaven-plateau-southern-laos/

 

Pipunic, A. (2015, September 14). Everything You Need to Know About Single Origin Coffees. Retrieved September 25, 2023, from

https://perfectdailygrind.com/2015/09/everything-you-need-to-know-about-single-origin-coffee/