New Holiday Coffee : Ho Ho Jo! Holiday Blend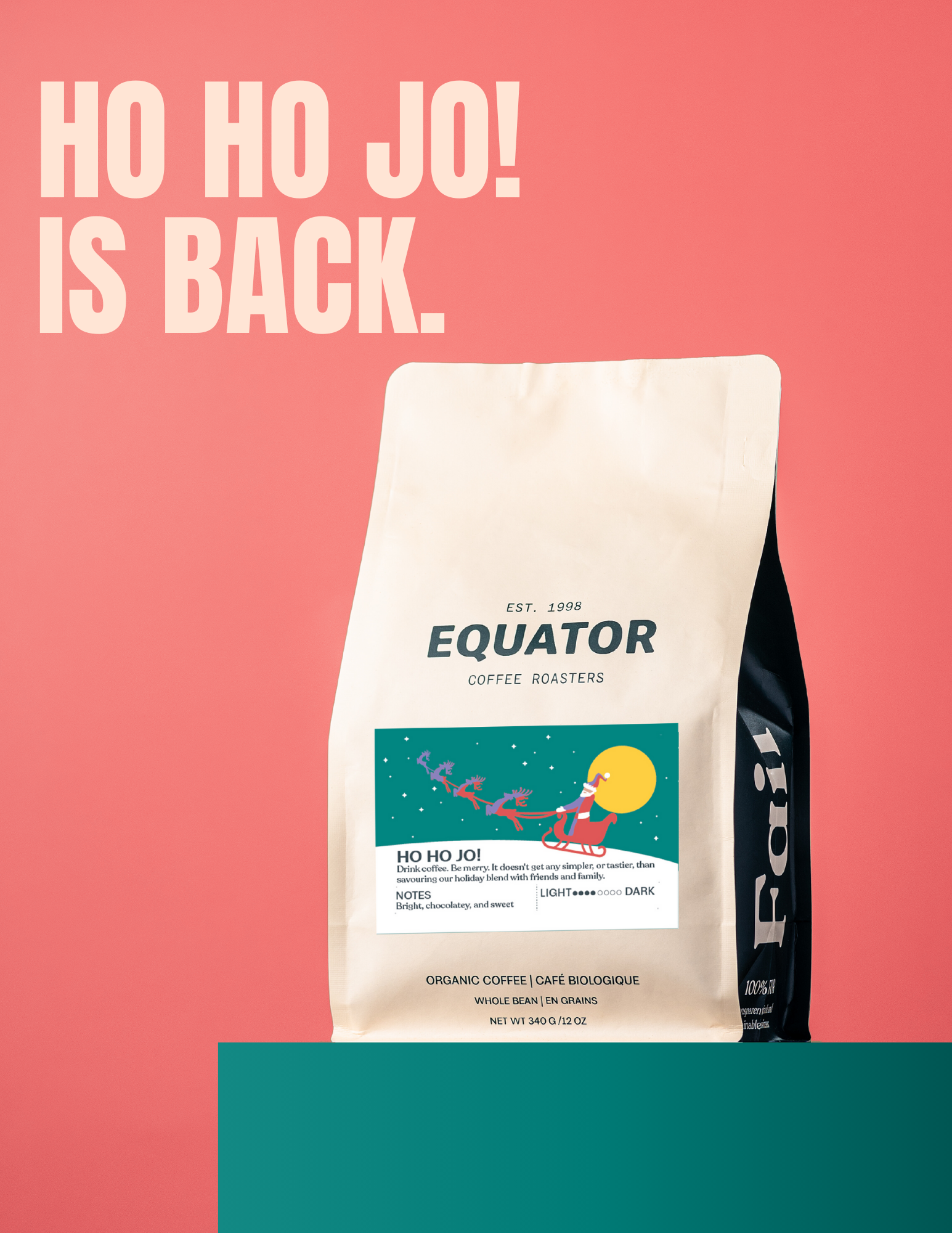 Coffee
Seasonal Coffee Artist Series
Ho ho ho and happy holidays from Equator Coffee Roasters! It's the most wonderful time of the year, and what better way to celebrate than with our special holiday blend? Longtime fans will recognize the HoHoJo holiday blend as a crowd-favorite coffee since 2010, now back again in the spirit of the season. 
Don't miss out on the perfect gift for the special coffee lovers in your life. It is available for purchase in-stores and online from November 16th until the end of December.
About The Blend
The HoHoJo is an organic blend of washed, sun dried Guatemala coffee beans and natural, shade grown Ethiopia Sidama coffee beans, both of which are FLO-certified.
History Of The Coop Rio Azul 
Coop Coffees initially discovered The Coop Rio Azul in 2005 in Quetzaltenango during a roaster and producer exchange. The Coop Rio Azul was founded in 1967. It is situated in a remote town in the Jacaltenango, Huehuetenango region of western Guatemela. The 210 members running it are known as the Pobp' al Ti', or Popti, people due to their Mayan heritage as part of the Jacaltec group. They have a reputation for producing and exporting some of the best coffee we are fortunate enough to serve you now. This is all thanks to their careful quality control from bean to cup and the region's excellent growing conditions. The Arabica coffee varieties found here include Bourbon, Caturra, Márago, and Typica. (1)
History Of The Sidama Coffee Farmers Cooperative Union
Coop Coffees partnered with The Sidama Coffee Farmers Cooperative Union, or SCFCU, in 2009. Since then, Coop Coffees has been directly sourcing from numerous SCFCU community-based cooperatives, which includes: Abela Galuko, Bona, Fero, Homacho Waeno, Shilco, and Talamo. The SCFCU currently consists of a whopping 76,000 small-scale farmer members representing 51 cooperatives. It was founded in 2001 for local and international representation and is located in the Sidama region of southern Ethiopia, which spans the Bensa mountains to the Aleta Wendo and Dale valleys. The SCFCU is the second largest Ethiopian Coffee Farmer Cooperative Union. It is best known for its Arabica Heirloom coffee variety.  Their Yirgacheffee-type coffees, which grow at the highest of altitudes, take on a bergamot quality. While the SCFCU's natural processing is used for our blend, 95% of its coffee beans are washed annually. (2)
Tasting Notes And Flavors
The HoHoJo yields a light and bright balanced medium roast (our roast level 3). It comes in 340 g, 2 lb, and 5 lb sizes, as well as small 52 g portion packs that make for perfect stocking stuffers. Grown at an altitude of 1300 to 2000 m, its citric acidity, silky sweetness, and decadent dark chocolate flavor profile is heavenly for coffee drinkers and chocoholics alike, especially if you add a bit of chocolate syrup. 
Sprinkle on some shaved dark chocolate or lightly dust the top with a dash of cinnamon and nutmeg for a magical brew just for you. It also works wonders as a latte, cappuccino, or mocha with any milk of your choice. I know I am definitely looking forward to enjoying this caffeinated delicacy in my 8-cup Chemex curled up with a good book by a cozy fireplace.
References:
CoopCoffees. (n.d.). Rio Azul. Retrieved November 6, 2023, from

https://coopcoffees.coop/rio-azul/

 

CoopCoffees. (n.d.). Sidama Union. Retrieved November 6, 2023, from

https://coopcoffees.coop/sidama-union/