The 4 Best Scales For Home Use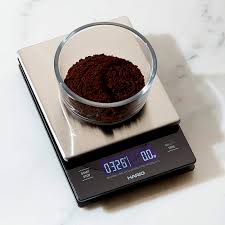 Let's weigh in on an important consideration for your brewing process: scales. For at-home baristas looking to get a consistent perfect cup of coffee, Equator Coffee Roasters recommends the following best scales for home use: the Acaia Pearl, the Acaia Lunar, the Jennings CJ4000, and the Hario V60 Metal.
Weight Limit: 4.4 lbs

Battery: Lithium-Ion USB Type-C Rechargeable

Dimensions: 16 cm x 16 cm x 3.2 cm
For all the bells and whistles, coffee connoisseurs need not look any further than the fast, accurate, and built-to-last Acaia Pearl. Monitor your pouring as you get live guidance from the Real-Time Flow-Rate Indicator, experiment with various Brewing Modes, and easily navigate the display with its Optimized Sunlight Readability adjustable brightness. This scale comes with a heat resistant pad and charger cable. 
To elevate your coffee experience, download the Acaia app and connect this compatible scale to it!
Weight Limit: 4.4 lbs

Battery: Lithium-Ion USB Type-C Rechargeable

Dimensions: 10.5 cm x 10.5 cm x 1.5 cm
For the espresso enthusiasts amongst you, consider the Acaia Lunar, offered in black, white, and silver. Constructed out of water-resistant anodized aluminum, it is equipped with the latest weighing technology for faster stabilization. This scale is even more accurate, up to 0.01 g, and fits on your espresso machine. It also comes with Espresso Modes that automatically start and stop the timer as needed. For those of you who prefer a more hands-on approach, you can manually set and save any desired custom weights. Like the Acaia Pearl, it has a battery life of 30-40 hours and comes with a Real-Time Flow-Rate Indicator.
Weight Limit: 8.8 lbs

Battery: 3 AAA; AC Adaptor 

Dimensions: 13.3 cm x 30.6 cm x 19 cm
The CJ4000 Compact Jennings is a budget-friendly and easy-to-use digital scale. It is fairly lightweight for being able to measure up to a whopping 8.8 lbs and it has a large enough area for your coffee pots or baking bowls. Just be careful not to spill anything on it as it's not waterproof. Being made of metal, there is no risk of the scale melting from the heat of your brew. Plus, it sits sturdily in place on its skid-free feet. The screen has a backlit feature to help you navigate during those darker hours of the morning. Keep in mind that there is no built-in timer, and it beeps when you turn it on. We also wouldn't recommend this scale for espresso given its lower degree of precision (to the 0.5 g), and it likely won't fit on your espresso machine. But it's great if you'd rather skip the bells and whistles for all-around kitchen and coffee use.
Weight Limit: 4.4 lbs

Battery: 2 AAA; USB Option

Dimensions: 12 cm x 19 cm 2.9 cm
For all your pour-over needs, we suggest the slim and sturdily built Hario V60 Metal Drip scale. Accurate to 0.1 of a g, it works great for weighing espressos and accommodates all coffee brewers. Just be cautious around your espresso machine as it's not waterproof. It dissassembles for easy cleaning, comes with 80 hours of battery life, and stays put with non-skid rubber feet. It also comes with a backlit LED display and a built-in timer.
From coffee to espresso to multi-purpose kitchen use, these 4 scales are great options for your home.