What Makes Equator Different?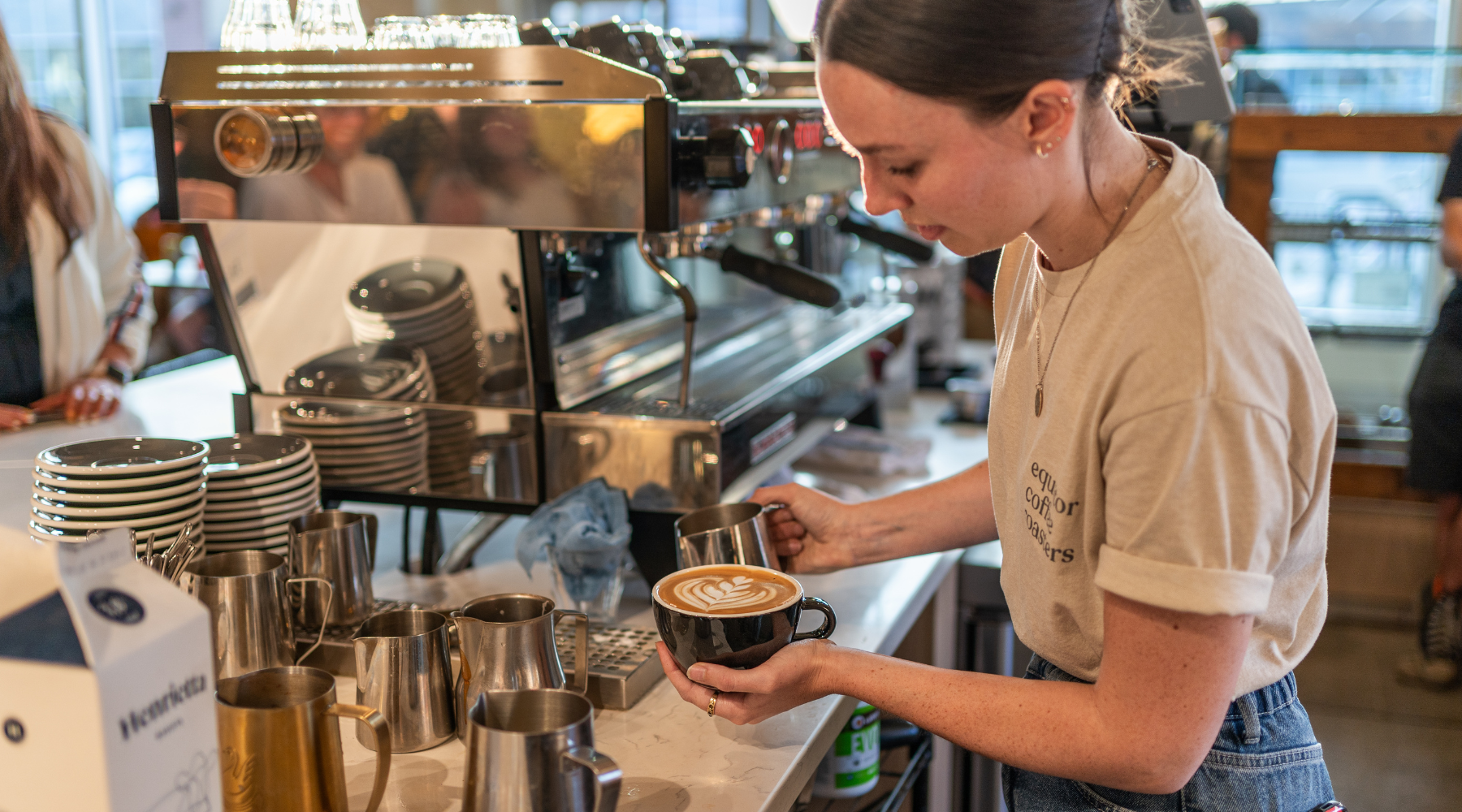 Coffee is a fun and playful community of passionate people who love what they do. We are lucky to be apart of a continuously evolving industry that we care about, from crop to cup. Though there are many coffee roasteries all over the world, they are completely unique in production volume, types of coffee, quality, concepts, vision, focus, and of course taste. It may seem like all coffee is the same to some, but each bean has its own story. This is our story, as to what makes us feel different from other coffee companies.
Certified B Corp: 

Equator Coffee stands out as a Certified B Corporation. This stringent certification indicates that we meet the most demanding standards for social and environmental performance, not just in theory but in verifiable practice. It's proof that we are as committed to making the world a better place as we are to brewing a delicious cup of coffee. 
Mission: Empowers Farmers, Protects Environment: 
Our mission sets us apart. We're not just about coffee; we're about people and the planet. We source and roast the highest quality coffee, all while empowering the farmers who cultivate our beans and working tirelessly to protect the environment in which they grow. 
Founders' Vision:
 Equitable Benefits for All: Equator Coffee was founded on the belief that everyone in the coffee chain should benefit equitably. Our founders, Craig and Amber Hall, envisioned a business model where not only the consumers enjoy top-quality coffee but also the farmers growing it, leading to a fairer, more balanced coffee industry.
Sustainable Practices: 
High Standards of Accountability: Our commitment to sustainable practices is unwavering. We value transparency and accountability, ensuring that our sourcing, roasting, and distribution processes align with the highest standards of sustainability. We are as dedicated to preserving the planet as we are to serving excellent coffee.
Organic Certified: 
Healthier Planet, Healthier Communities: Our commitment to organic farming isn't just about the taste; it's about health, too. All the coffee we roast is certified organic, indicating our pledge towards a healthier planet, healthier farmers, and healthier communities, from Canada to Peru to Ethiopia to Sumatra. 
Employee Well-being: 
Safe, Inclusive Work Environment: At Equator Coffee, we prioritize the well-being of our staff. We are dedicated to creating a safe, inclusive work environment where all employees feel valued and appreciated. Our success isn't just measured in cups sold, but in the happiness and satisfaction of our team.
Recognition: 
Canada's Best Managed Companies: We are proud to be recognized as one of Canada's Best Managed Companies. This accolade attests to our relentless commitment to balancing profit with purpose. It's a testament to our dedication to our mission and values, and our efforts to create a positive impact on the world.
Impact: 
Direct, Transformative Community Contribution: We are more than a coffee company. We are a force for positive change. We use our platform to impact communities, donating a significant portion of our profits to charity each year. With every cup of coffee sold, we are contributing directly to improving the lives of others.
Carbon Neutral: 
Commitment by 2030: We're not just brewing coffee; we're brewing a sustainable future. We've publicly pledged to become carbon neutral by 2030, joining the international Climate Collective in a concerted effort to combat climate change. At Equator Coffee, every cup counts towards a healthier planet.
Profit Donation: 20% goes to Charity: 
We are committed to doing more than just brewing great coffee. Equator Coffee commits no less than 20% of profits to charity each year. Our focus is on improving the livelihood of children and families in coffee-growing communities, making every purchase an act of giving.
Community Development: 
School-building, Supply Provision: From 2010 to 2022, Equator Coffee donated directly to SchoolBOX, aiding in building schools and providing essential supplies for thousands of children. Every pound of coffee sold is a step towards educational access for children, proving that coffee can indeed change lives.
Unique Sourcing: 
Member-owned Coffee Co-op: Equator Coffee is a member-owner of Cooperative Coffees, along with 22 other community-based coffee roasters. This unique sourcing method bypasses brokers, establishing direct, transparent relationships with our producers, ensuring fair trade, quality, and impact premiums that directly support the farming communities. To learn more about Coop coffee visit https://coopcoffees.coop/. 
Fair Trade: 
Open Contracts, Respectful Dialogues: Our concept of "fair trade" goes beyond a mere label. We foster open and respectful dialogues with our producer partners, share the profits, and shoulder industry volatility together. At Equator, we believe in equitable dealings and shared success.
Carbon Responsibility: 

Lowering Carbon Footprint: We've been tracking our carbon footprint since 2017, making conscious efforts to reduce it. As part of the B Corp Climate Collective, we're committed to becoming Net Zero by 2030, partnering with carbon offsetting programs, thus making our coffee as eco-friendly as it is delicious.
Local Outreach: 
Local Support and Employment: We believe in the power of community. That's why we actively support local organizations, donate to local causes, and hire locally, including those with intellectual disabilities. At Equator Coffee, we're not just brewing coffee; we're brewing stronger, more inclusive communities.
Try our Best Seller, A Subscription for Organic Coffee Beans