Seasonal Coffee Artist Series: Spring with Bailey Cherry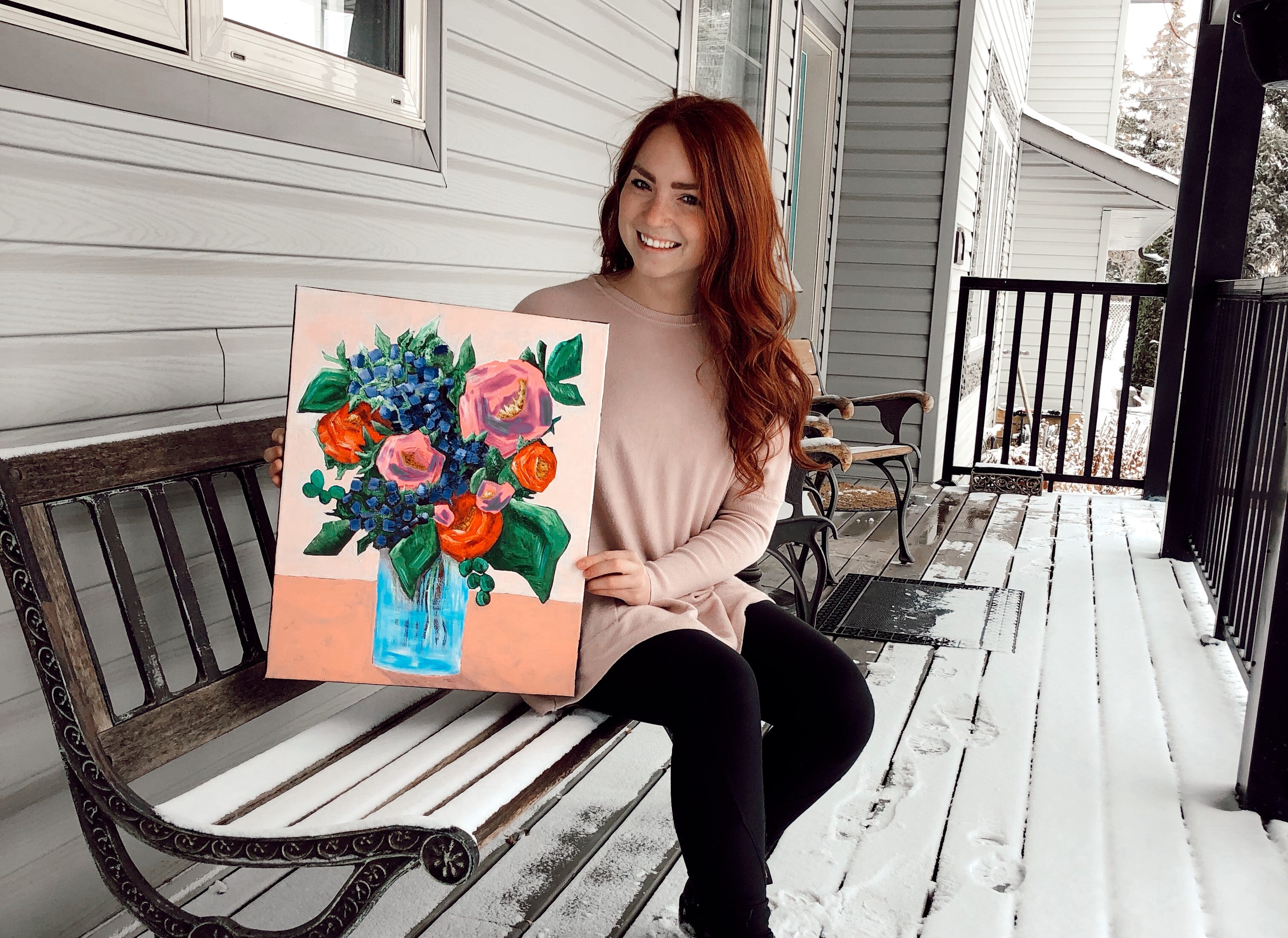 Community
Seasonal Coffee Artist Series
Bailey has been a part of the Equator family since moving from Saskatchewan to Ontario in 2017. She has recently started in a management position at the Westboro café. Those who have visited the café will recognize Bailey by her red hair and warm demeanor, not to mention her amazing skills behind the espresso bar.
Bailey's art career started in the same place as many - elementary school art class. Her teachers throughout the years provided the environment and runway for students to test out their artistic ability. This served as an introduction to a lot of different mediums, helping Bailey nurture her natural knack for art.
Bailey reflected on how adult life and adult responsibilities can take time away from creating, but how creating art is an important part of her life. "When I actually have the time to sit down and create a piece, I love it. I think I tend to get inspired by others' art. So, I would almost rather recreate something with my own twist on it, than bring something solely from my own head to the table."
What are your favourite artistic mediums?
"My favourite artistic mediums fluctuate, I'm very all over the place. When it comes to art, I'll start something. And then if I don't finish it immediately, I tend to forget about it or not pick it up for another for another couple months. It fluctuates a lot, but right now it's embroidery. Sometimes I love painting. I think that the easiest one for me is drawing because I have the understanding of light sources, shading and that kind of thing. I think that's a really beautiful medium if done well. Pen and ink would be another one I tend to gravitate towards." 
In what setting do you typically do your art? Where do you find inspiration?
"I need time. I have to be able to sit down and have an afternoon to do something. If I have an image in my head the passion for that project is found in the moment. I like to sit down and finish. So this means that I'm usually pretty quick, but it is also my hindrance. For lack of better words, I work well under a purpose, pressure, or deadline. Home is where I work best, around my people, in a setting where I am still able to focus and just get it done."
Why did you choose this piece for the spring seasonal?
"I love flowers. I love floral. It's my favourite thing to draw, it's my favourite thing to embroider, it's my favourite thing to paint. And so, with the option to do something for [the spring seasonal coffee] it had to be floral in my eyes. I also thought the light sources and colours in this specific painting gives it dimension and makes it so much more than just a flat surface, which is super fun."
Describe the perfect spring day
"I would say it's one of those days where you can have a T-shirt on and aren't cold, but you can still feel that spring breeze. It's going for a walk, going to a coffee shop, getting a drink, walking down by the river, or just being out in nature, that's probably my favourite. It's those first few days of spring, where it's like 'oh my goodness, new! Fresh!' Things start to bud and there's just newness in the air" 
How can people keep up with you and your work?
"I have some accounts on Instagram that show all the different mediums of art I dabble in. I have the account @bc_create which is more based around coffee, photography, and physical artwork. And then I have my business account, @blossom_embroidery_co which is where I create and showcase the embroidery that I sell"
Starting March 18th, 2021, you can purchase our Spring Seasonal coffee online, at our cafes, or wherever you normally buy your Equator coffee. 
The Seasonal Coffee Artist Series invites local talent to be featured on bags of Equator Coffee. Changing with every season, each limited edition coffee blend label will feature the season-related art of one artist or designer selected by Equator from the diverse communities connected to our coffee. Inquiries regarding submissions can be sent to outreach@equator.ca