Seasonal Coffee Artist Series: Fall with Jill McCubbin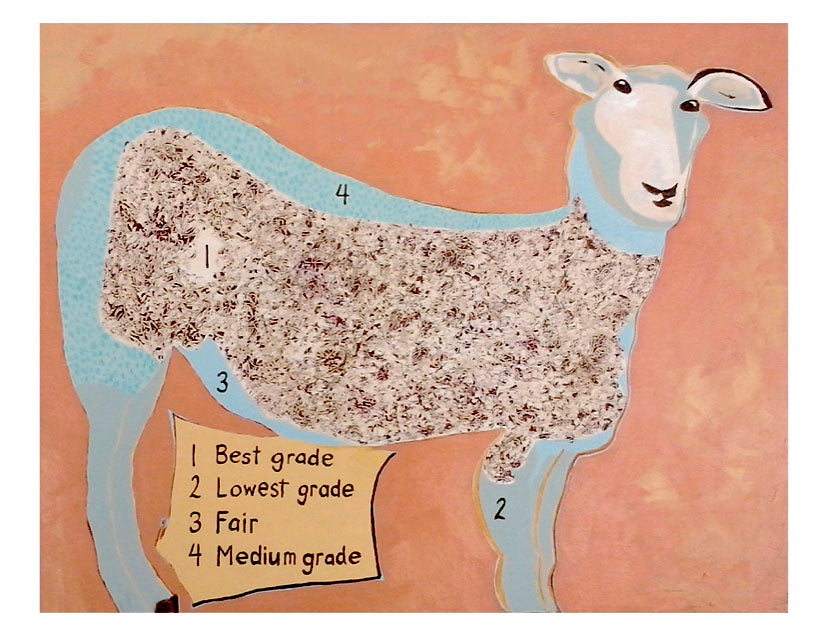 Community
Seasonal Coffee Artist Series
Jill McCubbin moved to Almonte 24 years ago with her family to open a bookstore. "That's my background: Books. Reading, studying, discussing, selling." The family bought their first home and opened the store in the same month. Since then she's a keen participant in the community. "You really jump right into a town, when you open a shop on Mill Street." A short list of Jill's livelihood: store owner & bookseller, one of the founders of the Humm arts & ideas newspaper, parent & homeschooler, photo library assistant, past board member at Mississippi Valley Textile Museum, home builder, web-designer, Municipal Councillor for Almonte ward, artist and local history enthusiast (see "Unexpected Almonte" on Facebook).
Currently, she's a border collie lover, librarian at the Almonte Branch of the Mississippi Mills Public Library - "the absolutely best job and most wonderful place " - artist (still), landlord and publisher at Book & Carding Mill Press (www.bookmillpress.com or jillmccubbin.com). There, she created two lines of notecards: "Cards for readers and will-be-readers" and "Almonte is too important to be taken seriously" cards. Printed locally, plastic-free, and sold across Canada. Visit the card shop online. Cards also available at local shops, including Equator Coffee.
Jill is also designing and producing an Unexpected Almonte local heritage book, so her creative projects are varied. A couple of her more recent artworks - two acrylic paintings remaining in a series of paper doll mixed media works - are hanging at the A.D. Redux exhibition at 60 Mill Street, Almonte, until the end of September.
About Jill's art, she says, "I'm inspired by rural lifestyles & heritage – contemporary and older – such as the industry of the Ottawa Valley textile mills – as well as local stories (and some from elsewhere)." Jill's work is colourful, lively and often incorporates a surprising anecdote, "My work offers imaginative twists for the observer to consider. I believe even the most seemingly simple ideas are not. Art can be whimsical and demanding."
Some of her past favourites were her paintings of dressmaker dummies for her show at the Mississippi Valley Textile Museum and a large, varied series of sheep paintings. The image being used for the Equator Autumn Coffee is the last of this series (for now) and actually the most odd-ball. "I didn't exactly choose it myself for the Equator series, but a young employee at Equator was a fan of this quirky sheep image and I was happy to know I wasn't the only one who liked it!"  
The Equator Autumn Coffee image is like a diagram of where the best grades of fleece are found on a sheep. "The image is colourful, it's heritage, it's intriguing, it's informative, it's kind of weirdo, it's art. There's lots of skill and effort behind raising and shearing sheep - and producing quality fleeces for the woollen industry. Similar to the know-how and labour that goes into any well-done endeavour - like producing a good coffee perhaps?"
"Local stories are a big inspiration. The 'Our Past Is Looming' permanent exhibit at the Textile Museum (and the building itself!) are full of stories, as are the advertisements found via the Almonte Gazette archive, which reaches back to 1861, and the historic photos at almonte.com. I think as a small business owner in Almonte for so many years, I am drawn to the old business info and advertising I find in the Gazette archive. It wasn't just the mill owners who built this town. The small businesses on Mill Street and area, and the trades and crafts people and farms in the region, contributed so much - and still do." Also, because Jill is drawn to clothes and costumes, the textile production history in Almonte is also a good "fit" for her. One of Jill's recent notecards offer representations of real and fictional Almonte men's wear advertisements and the caption: "Almonte: built by visionaries promoting scratchy suits."
Jill's thoughts about perfect fall days... "Right now, I'm camping in a Eurovan with my partner and dog in parks across New Brunswick and Nova Scotia. It's close to perfect! Not too cold, not too hot. Campfires, walking along the ocean, all the winds, eating scallops, visiting relatives and places I haven't seen in years." 
Meanwhile, perfect fall days outside are everyday occurrences. "I walk daily in the woods and along the trails in Almonte (remember: border collie owner). It's truly beautiful in and around our valley in any season, and getting out or along the Mississippi River is just the best thing." Jill's plan for more perfect fall days: paddle boarding on the river, having a coffee with her son and daughter whenever possible, and reading on her front porch. "67 books so far in 2021."
 You can keep up with Jill's work on her website: www.jillmccubbin.com
The Seasonal Coffee Artist Series invites local talent to be featured on bags of Equator Coffee. Changing with every season, each limited edition coffee blend label will feature the season-related art of one artist or designer selected by Equator from the diverse communities connected to our coffee. Inquiries regarding submissions can be sent to outreach@equator.ca