From the Single Origin Series: Brazil COOPFAM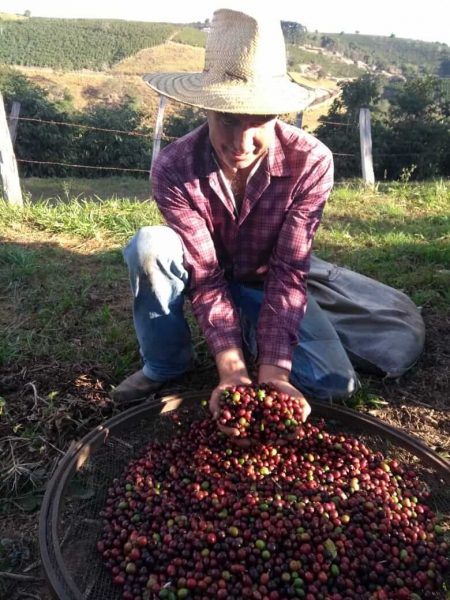 Coffee
Farmer Stories
Single Origin Series
Our newest microlot comes from farmer Ozorio Jose Dos Santos, a member of Brazilian cooperative COOPFAM. Sr. Ozorio grows coffee on 15 hectares of land, nine of which are certified organic. This small batch of natural processed organic coffee was harvested with the utmost care and attention. It therefore has wonderfully unique and intense characteristics: floral aromas, honey sweetness, deep, malty flavours, and soft berry-like acidity.

The Cooperativa dos Agricultores Familiares de Poço Fundo e Regiao LTDA (COOPFAM) is an association of small-scale farmers located in the state of Minas Gerais in south-eastern Brazil. Their roots date back to the 1980s when the catholic organization "Pastoral Do Tierra" started organizing small farmers in the town of Poço Fundo under the philosophy of land stewardship and sustainable agriculture. The organization was established in 1991 when seventy-six families from the Pastoral Do Tierra united to form the the Association of Small Producers From Poço Fundo. Since then, their goal has been to improve the living standard of farmers and to reduce poverty and emigration by increasing productivity through sustainable agriculture and to sustain the quality of family-oriented agriculture in the region.

The organization, recognizing the demand for organic certified coffees, has been actively pursuing a program of organic transition with their members. Of over 140 containers of production, COOPFAM had historically produced about 5 containers of certified organic coffee. In 2019, enough farmers underwent the three-year organic transition process that two more organic containers were available. Equator's green bean buying co-op, Cooperative Coffees, was thus able to bring its first container of organic coffee from Brazil in over 10 years. This looks like the start of a long and fruitful partnership!