Celebrating Equator's 25th Anniversary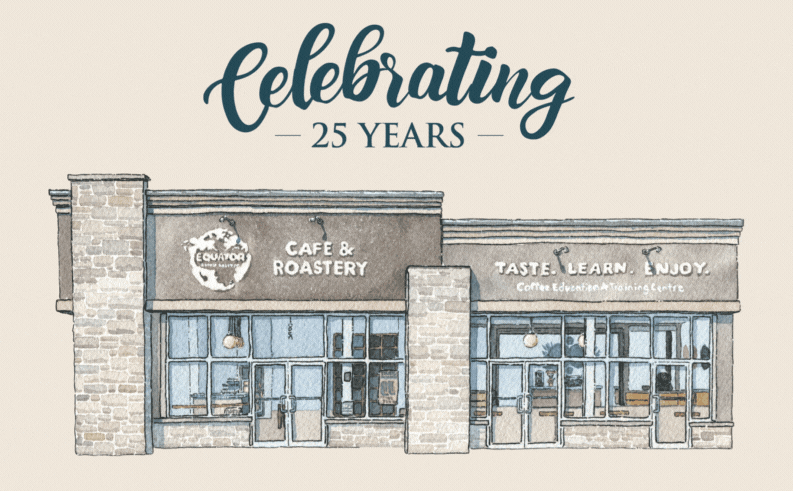 Founded in 1998 by Craig and Amber Hall, Equator Coffee was built on the values of ethical sourcing, sustainability, and quality coffee, and has continued to blossom ever since. Many milestones have been hit in the past two decades, including opening five cafes in the Ottawa area, expanding wholesale production to provide quality coffee across North America, and forming lasting communities for coffee lovers around the city. To celebrate these milestones, Equator has created a tour of all five locations. Grab an Equator passport at your local cafe and stop by each location's event to stamp your passport. Participants who collect all five stamps will receive an exclusive Equator 25th anniversary tote bag!
1. NAC Cafe
Join Equator Coffee on July 15th for the launching of our new micro-lot coffee program at the NAC Cafe. This event will feature live music from local artists including Kenny Hayes and Samantha Ebert, as well as coffee pour-over demonstrations using the new micro-lot coffee. A one-time discount will be offered for the micro-lot coffee during the event. There is an extremely limited quantity of this coffee available so grab one before they're all gone.
2. Westboro Cafe
Gathering local artists from around Ottawa, this market will showcase the variety of talent in our city. Stop by Equator Westboro on Saturday, July 22nd between 10 AM and 3 PM to enjoy your favorite coffee while shopping for some beautiful art pieces. Oil and acrylic paintings, sketches, and watercolors are a few examples of art that will be for sale at the market. The Equator patio will feature live performances from local musicians such as Wild Remedy band and Amber Humby, to enjoy while browsing the artist's works.
3. Kanata Cafe
Have you ever had a front-row seat at a latte art competition featuring skilled and experienced baristas? Now is your chance, Equator coffee will be hosting a latte art competition on July 27th at our Kanata location. Sponsored by Breville, local baristas from the Ottawa area have been challenged to compete for the ultimate prize of a Bambino Plus Espresso machine, and show off their creative latte art skills. Make sure to catch some of this intense competition in Kanata and get your Kanata cafe passport stamp.
4. Stittsville Cafe
Start your Sunday morning off right on August 20th at 9 AM with a group cycle on the paths. In partnership with Common Empire, Equator Coffee will be hosting a group cycle starting and ending at our Stittsville cafe. Common Empire has created four ride routes, allowing anyone with a bike the opportunity to join a cycling event. Ranging from 20-90 kilometers, cyclists can choose to travel far on their bike, or simply get a quick cycle session in. Each route will be led by a ride guide courtesy of Common Empire, and end the ride at Equator Stittsville's patio for live music and beverages. On top of getting your Stittsville passport stamp, participants have the option to purchase a limited edition Equator Coffee cycling jersey. 
5. Almonte Cafe
Concluding the tour of the Equator where it all began in Almonte. The Almonte Cafe will be hosting a celebration market on August 26th from 10:30 AM to 5 PM. Equator Coffee prides itself on the communities we have created over the last 25 years, so a market with all our friends and local vendors is the perfect way to celebrate all the milestones we have achieved over the last 25 years. This market will feature vendors from the Ottawa Valley area that have aligned values of sustainability, ethical sourcing, and quality products, with Equator Coffee. This Market will also feature performances from local artists such as Nathan Ashtree and Wild remedy band. Come collect your Almonte passport stamp, then stop over at our merch stand to retrieve your limited edition 25th anniversary tote bag prize for visiting each location's event.