B Corp Certified, Two Years On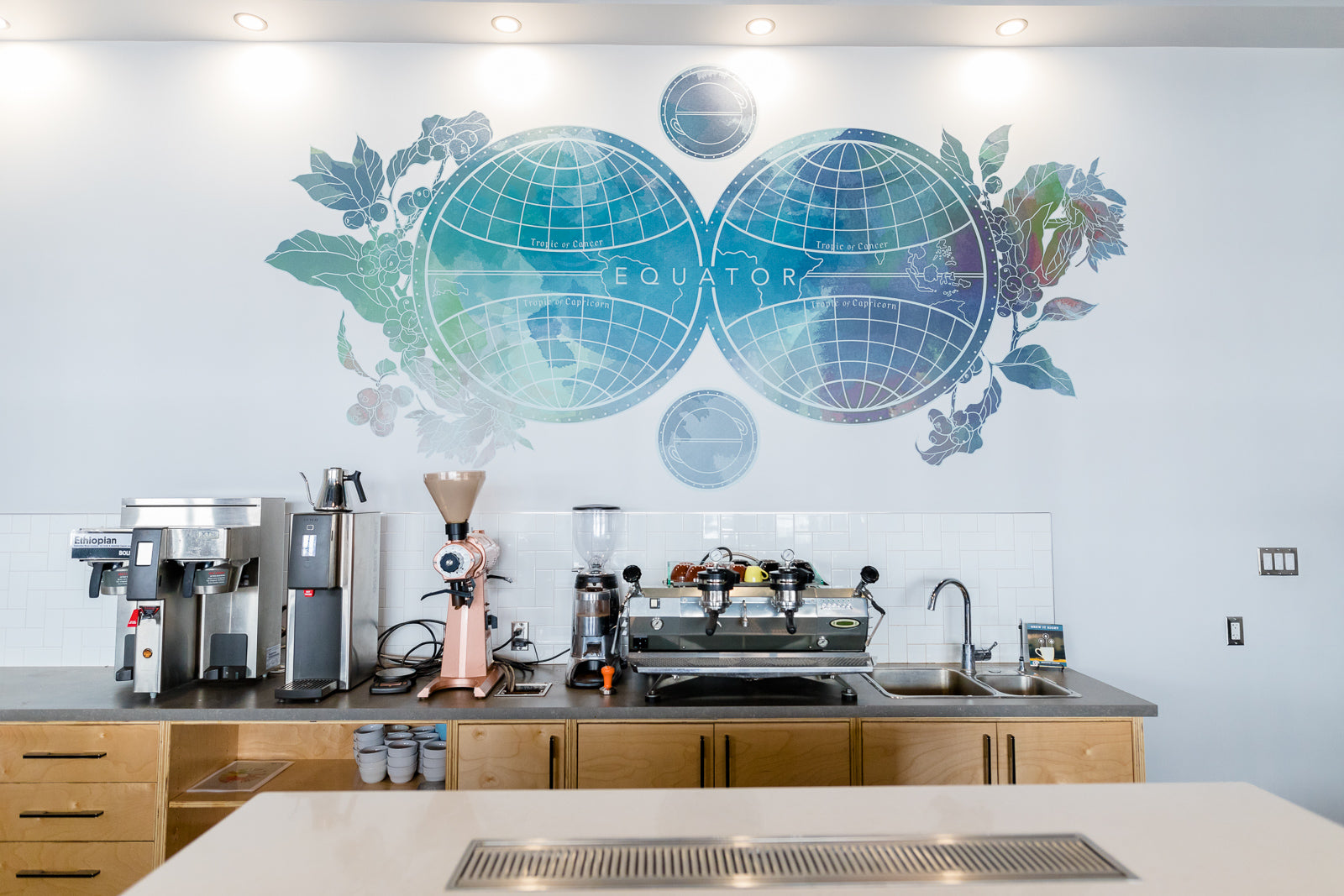 Certified B Corporations are a new kind of business that balances purpose and profit. They are legally required to consider the impact of their decisions on their workers, customers, suppliers, community, and the environment. This is a community of leaders, driving a global movement of people using business as a force for good. www.bcorporation.net
B Corps, like Equator, actively create positive change. From reducing our carbon footprint and making lasting environmental changes, to social justice, and employee well-being, B Corps are held accountable to put people before profit. B Corp has a holistic mission to make businesses better for people at every level of the supply chain. This spoke to our values on a deep level. From day one, Equator has purchased fair trade, organic coffee, for the good of both the people producing the coffee and for the land it's grown on. At home, we reduce our carbon footprint in our cafés by composting our coffee grounds, choosing eco-friendly packaging, and reducing waste as much as possible. 
Equator wanted to join a community of like-minded businesses to create change at a larger scale. So in 2019, Equator officially became a Certified B Corporation and joined a community of leaders in social and environmental impact.
So what has happened since then? 
Over the past two years, the team at Equator has worked hard to make a number of improvements to our B Corp score. From large-scale improvements such as tracking and reporting on our energy usage, to everyday improvements like purchasing recycled paper products, the B Corp Impact Assessment has created a guideline to make actionable change. 
Many of these improvements were made possible through our Summer Internship program in which we were able to bring on a B Corp Improvement Officer. This summer internship empowers a student with the opportunity to discover the world of purpose-driven businesses and make an impact by identifying areas of improvement and taking action on them. Some projects we are particularly proud of are: 
Volunteering Policy, which gives all employees the chance to give back to their communities through two paid days off for volunteer work every year. 
Environmental Mission Statement, which turns several of our environmental goals into concrete pledges. 
Underrepresented Supplier Policy, which gives preference to businesses owned by underrepresented groups, such as veterans, incarcerated individuals, and BIPOC when forming partnerships with new suppliers.
Carbon Responsibility. We have taken on the meticulous task of closely tracking our usage of water, power, and gas in order to off-set it in a meaningful way. In addition to that, our partners at Coop Coffees (a fellow B Corp) created the Carbon, Climate and Coffee Initiative in which coffee roasters like us pay a "voluntary carbon tax" in order to build an environmental-service fund to invest directly with our coffee-producer partners. 
Our launching priority focuses on project-work that encourages reforestation, soil regeneration, and experimentation and learning about other "carbon-capture enhancing" practices. It also would include complementary actions that contribute towards greater environmental balance in producer communities.
Sustainability and Ethics Report, which will depict in detail all of the changes we have made to improve our social and environmental standards. You can expect to see this in late September. 
Employee Education.
The last year has taught us all a lot about the injustices that happen all over the world and in our own backyard. It has also taught us that there is always more to learn. In August 2021, we were honoured to host Dr. Helen Ofosu for our first staff seminar where we discussed systemic racism, its impact in Canada, and what we can do as individuals and within the organization of Equator. In the upcoming months, this program will include seminars on the topics of sexuality and gender, women's issues, disability education, abuse recognition and prevention, and the climate crisis.