New Single Origin Coffee Release: Bolivia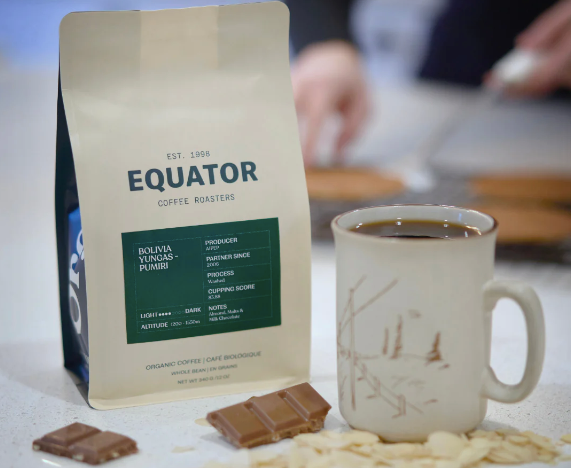 Brought to Equator Coffee Roasters from Pumiri, a little village situated in the Yungas mountains within the Caranavi province in Bolivia, is our new single origin coffee: Bolivia. Keep your eyes peeled for this coffee, which is available for purchase in-stores and online from November 2 until the end of the month.
History Of The Asociación Integral de Productores Ecológicos de Pumiri 
The Asociación Integral de Productores Ecológicos de Pumiri, or AIPEP, was officially founded as a primary-level producer association in 2002. Now over 20 years later, it is made up of 49 members, all of whom pride themselves on their excellent quality control and organic coffee production. (1)
At its conception, AIPEP received an Organic certification, but it was only four years later that they ventured into the export market by developing their first direct relationship with a purchaser. This was largely due to the assistance of the Federación de Caficultores Exportadores de Bolivia, or FECAFEB. 
Following this, FECAFEB continued to help AIPEP grow, most notably by giving Cooperative Coffees a thorough tour of its coffee-growing region and showcasing AIPEP's team efforts and internal working systems. This impressed Cooperative Coffees enough to partner with AIPEP in 2006. From there, Cooperative Coffees worked with AIPEP to help them obtain a Fair Trade Labelling Organization (FLO) certification through their initial contracts. FECAFEB supported AIPEP with its first exports until the company finally got its own export permit in 2016 along with a Fair Trade certification. Cooperative Coffees continues to purchase coffee from AIPEP to this day. These are impressive accomplishments for such a small group of devoted coffee farmers, especially considering the tumultuous history of coffee production in Bolivia over the last hundred or so years (2).
"Throughout the 1800s and into the early to mid-1900s, coffee production was limited in Bolivia . . . [Since the 1960s], farming has proliferated in Caranavi, and it is now the largest coffee-growing region in the country." – Perfect Daily Grind
The most common Arabica coffee varieties grown here are Caturra, Castillo, Mundo Novo, and Typica.
Tasting Notes And Flavors
The Bolivia is a washed process coffee that yields a balanced medium-bodied roast (our roast level 4). It was grown at an altitude of 1200-1550 m. Each sip of this mildly acidic coffee is bursting with nutty notes, including almonds and malts, and a milk chocolate taste to compliment its overall flavor profile. Perfect for when the days get colder. Coffee connoisseurs are also likely to identify hints of brown sugar, nougat, and tobacco in this specialty coffee featuring a cupping score of 83.88. To make the most of its earthiness, use a French Press. A double-shot espresso or Moka Pot will do the trick, too. Add a dusting of nutmeg for that idyllic winter holiday aroma to start your day on the right foot.
References:
CoopCoffees. (n.d.). Asociación Integral de Productores Ecológicos de Pumiri. Retrieved October 20, 2023, from

https://coopcoffees.coop/aipep/

 

Castellano, N. (2022, February 10). Exploring the Bolivian coffee sector. Retrieved October 20, 2023, from

https://perfectdailygrind.com/2022/02/exploring-the-bolivian-coffee-sector/