We believe the world is a better place with coffee that is sourced ethically and grown organically. At Equator, coffee is more than just a beverage; it is a way of changing the world.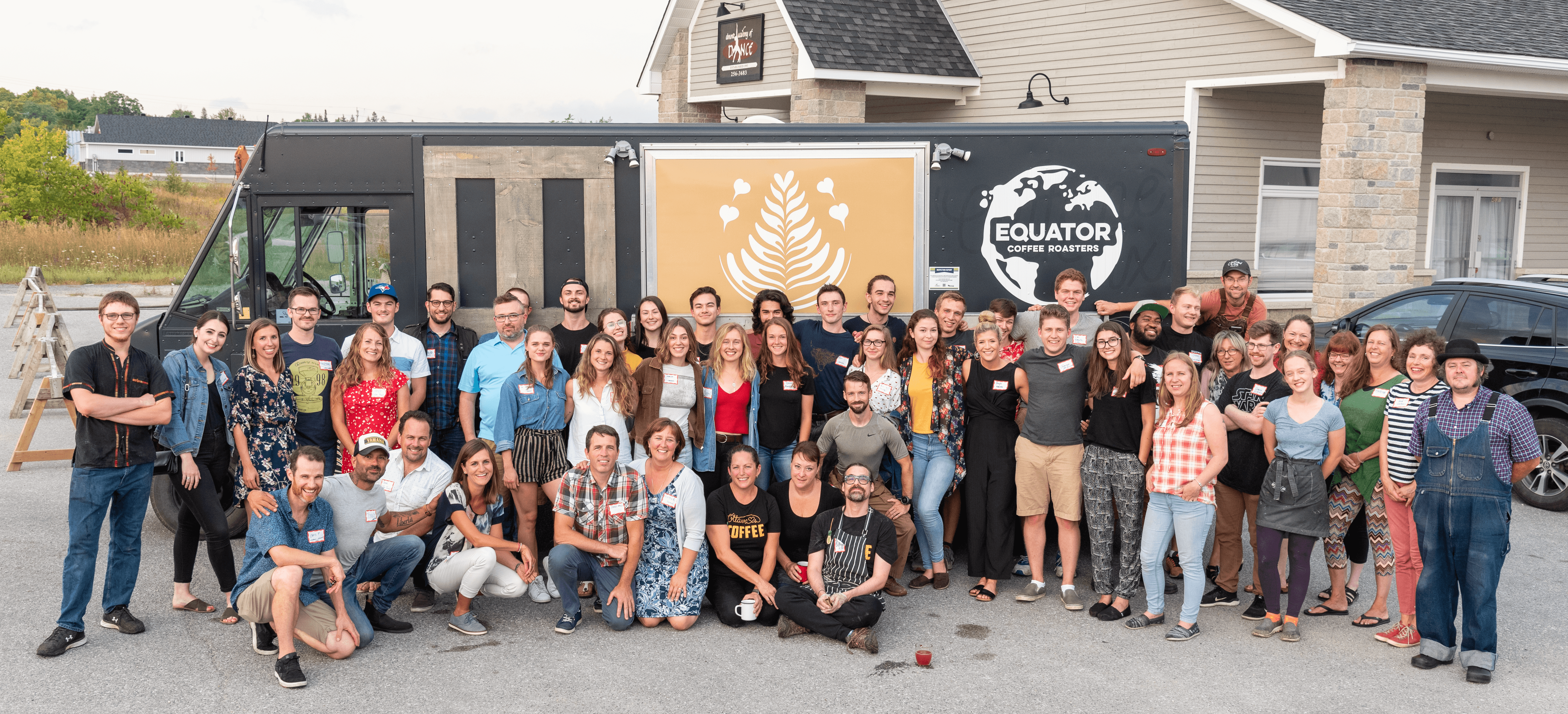 We've been roasting, delivering, and serving fresh, fair trade, organic coffee since 1998. Founded by Craig and Amber Hall with the goal of making a difference globally and locally, the name was chosen for a reason: to 'Equate' the benefit of drinking coffee, not just for the consumer but for all the people along the way, from our staff who pack and serve it- to the farmers who grow it.
Where it all began

In 1996, after graduating with a degree in International Development, Craig decided to apply his studies and start a business that aimed to bring more benefit to vulnerable coffee farmers. He had learned about "fair trade coffee" and focused his business on roasting fair trade, organic coffee. Little did he know this movement would spark the "direct trade" coffee craze many years later. From the start, Craig and Amber's goal has been to "equate" the benefit of drinking coffee.

World changing coffee

20+ years (and many lessons learned!) later, Craig, Amber, and the whole Equator team are still driven by the cause: to roast, deliver, and serve 100% fair trade, organic specialty coffee. Combining our love of people with our love of great coffee, we've been blessed to help shine a bit more light in an industry with a dark history (and a lot of bad coffee!) Our goal is to let that light shine brighter with every customer who hears the story, every staff member who tells the story, and every producer partner who lives it! Better coffee makes a better world.

Certified B Corp

In August of 2019, we became a Certifed B Corporation. What does this mean? Certified B Corporations® (B Corps™) are for-profit companies that use the power of business to build a more inclusive and sustainable economy. They meet the highest verified standards of social and environmental performance, transparency, and accountability. Learn more about the impact we make as a B Corp here.
Testimonials
Don't just take it from us! Hear from other customers just like you.
It's a delight to work with a roaster who adheres to similar values and goals!
-Genevieve Pelletier, Curator of Guest Experience LOV

"Equator Coffee is much more than just a coffee roaster and distributor, as their team cares very much about the longevity of their partnerships. We have always felt like we're truly part of the Equator family through their outstanding support, amazing products, and tremendous advice."
-Todd and Melanie
Alice's Village Café

"Since welcoming Equator Coffee into our establishment, we hve experienced nothing but the BEST! Service is personal and tailored to our needs, our staff have been given learning opportunities, and our guests enjoy a premium, consistent, delicious product."
-Anais Mercier
Food and Beverage Manager
Rideau Club
Our Locations
Equator has three locations. Equator "HQ" in Almonte hosts our roastery, café, and training centre. In Ottawa, we have two cafés: one in Westboro Village and one in the NAC-CNA. Meet our wonderful team and enjoy an incredible cup of coffee that so many hands, hearts, and help went in to preparing for you!