The Pros of a Coffee Subscription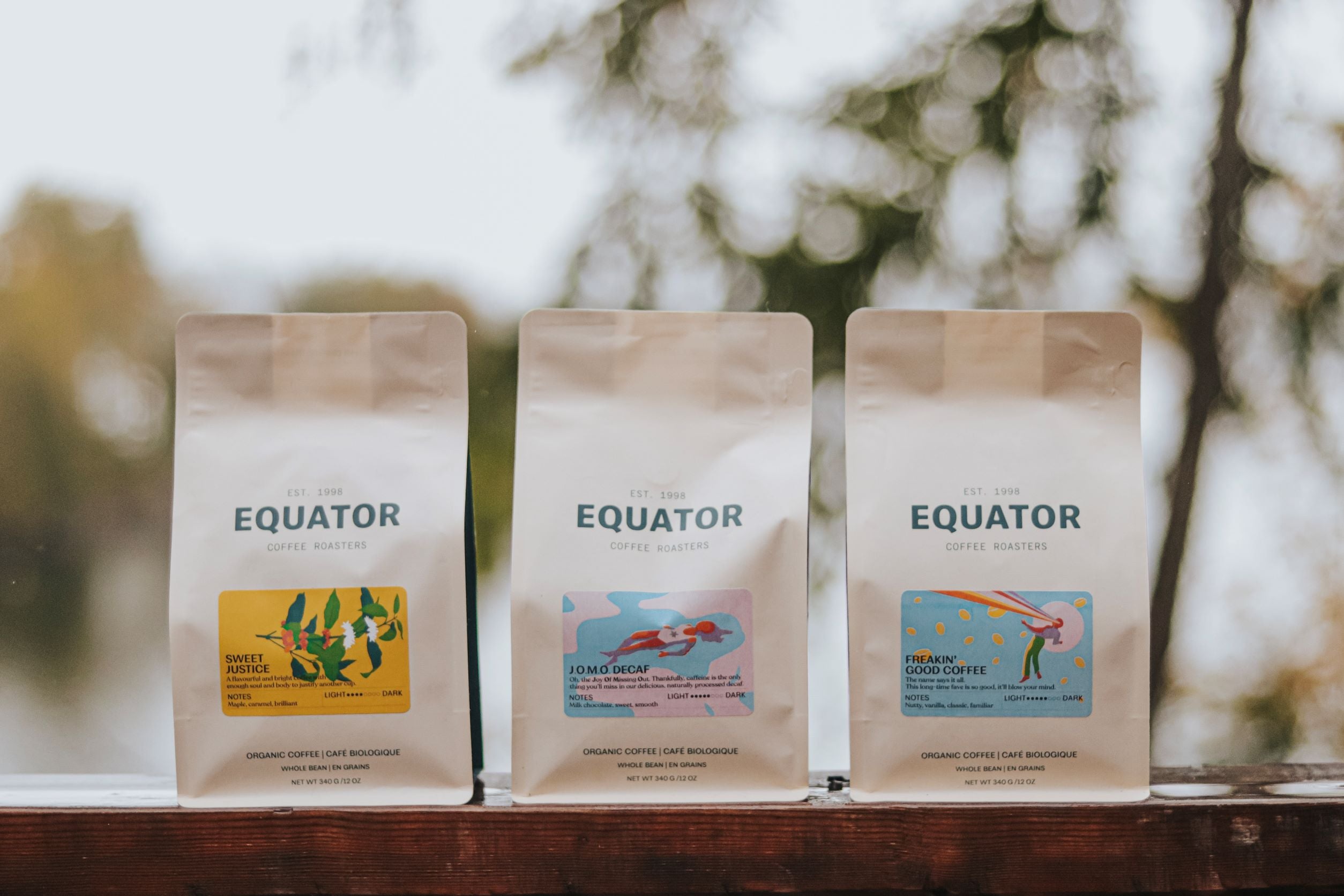 Did you know that Equator offers coffee subscriptions? When you subscribe, you'll receive your favourite coffee delivered directly to your door on a recurring basis. Subscriptions are a customizable, flexible, and consistent way to enjoy your favourite Equator coffee at home.
Today, we're taking a closer look at the pros and cons of a coffee subscription to help you decide if a coffee subscription is right for you.
What is a coffee subscription?
We've written about our coffee subscriptions in the past, but here's a quick overview: when you sign up for a coffee subscription, you'll receive your favourite coffee delivered right to your door every two or four weeks. Your recurring order will continue to be billed and shipped until you cancel it, so there's no need to renew.
What are the pros of a coffee subscription?
There are lots of benefits to a coffee subscription, including:
Convenience: Coffee is shipped right to your door

Consistency: Choose the frequency of your deliveries and the length of your subscription, and you'll never run out of coffee at home

Savings: With a subscription, you save 15% on the cost of every bag of coffee
What should I consider before a coffee subscription?
How quickly do you go through coffee? You may be tempted to get a larger bag of coffee and order less frequently, but keep in mind that our 5lb bag is equivalent to 134 cups! For this, we have a 2lb bag size and 340g.  When considering a subscription,

keep freshness top-of-mind

and order accordingly. You will be able to modify your subscription if you feel you need to increase or decrease the quantity or size of coffees.

Do you own a grinder? We always recommend grinding your beans fresh. For pour-over and drip coffeemakers, Equator offers a ground coffee option suitable for cone or flat basket filters. Other systems, such as espresso machines, French Press, or AeroPress, require a specific grind and you may need to acquire a grinder for home use
How does an Equator coffee subscription work?
It's quick and easy to sign up for a coffee subscription. Head to our Subscription page, then follow the prompts to customize your order:
First, choose your blend. Our subscription page lists all our available coffees as well as the tasting notes. Whether you're looking for a robust espresso for your morning latte, a light roast, or a decaf roast for evening sipping, there's an Equator coffee option for every occasion.
We also offer a Single Origin of the Month subscription. We release approximately 10 single origin coffees per year, and with this subscription, you will receive the most recent available release. This is a great way to try single origin coffees from around the world and get to know our cooperative coffee farmers.  
Next, you'll choose from two size options:
340g / 12oz (approx. 20x 10oz cups of coffee)

2.27kg / 5lb (approx. 134x 10oz cups of coffee)
After this, you'll be prompted to choose between two grind options:
Whole bean (not ground)

Ground: regular
Note on ground coffee: we offer a medium grind option, which is suitable for pour-over coffee or drip coffee machines (cone or flat basket filter). This grind is not suitable for espresso, French press, or AeroPress preparations.
Then, you'll select the frequency of your deliveries:
Every 2 weeks

Every 4 weeks

Every 6 weeks
Review your order summary, then pay for your subscription, and you're all set!
What sets Equator's coffee subscription apart from the rest?
Unlike many subscriptions, Equator's coffee subscription offers flexibility. Going on vacation? Pause your subscription for a cycle or two. Want to try a new blend? You can change your selection easily. Need to increase or decrease your quantity? You can easily make that change! You can also cancel anytime without penalty. 
Equator's coffee subscriptions offer a convenient and flexible way to ensure that you never run out of coffee at home. Our subscriptions also make a perfect gift for the coffee lover in your life.
If you're ready to explore Equator's coffee subscription options, head to our Subscriptions page to get started. Happy brewing!