Equipment Review with Chris - Grinders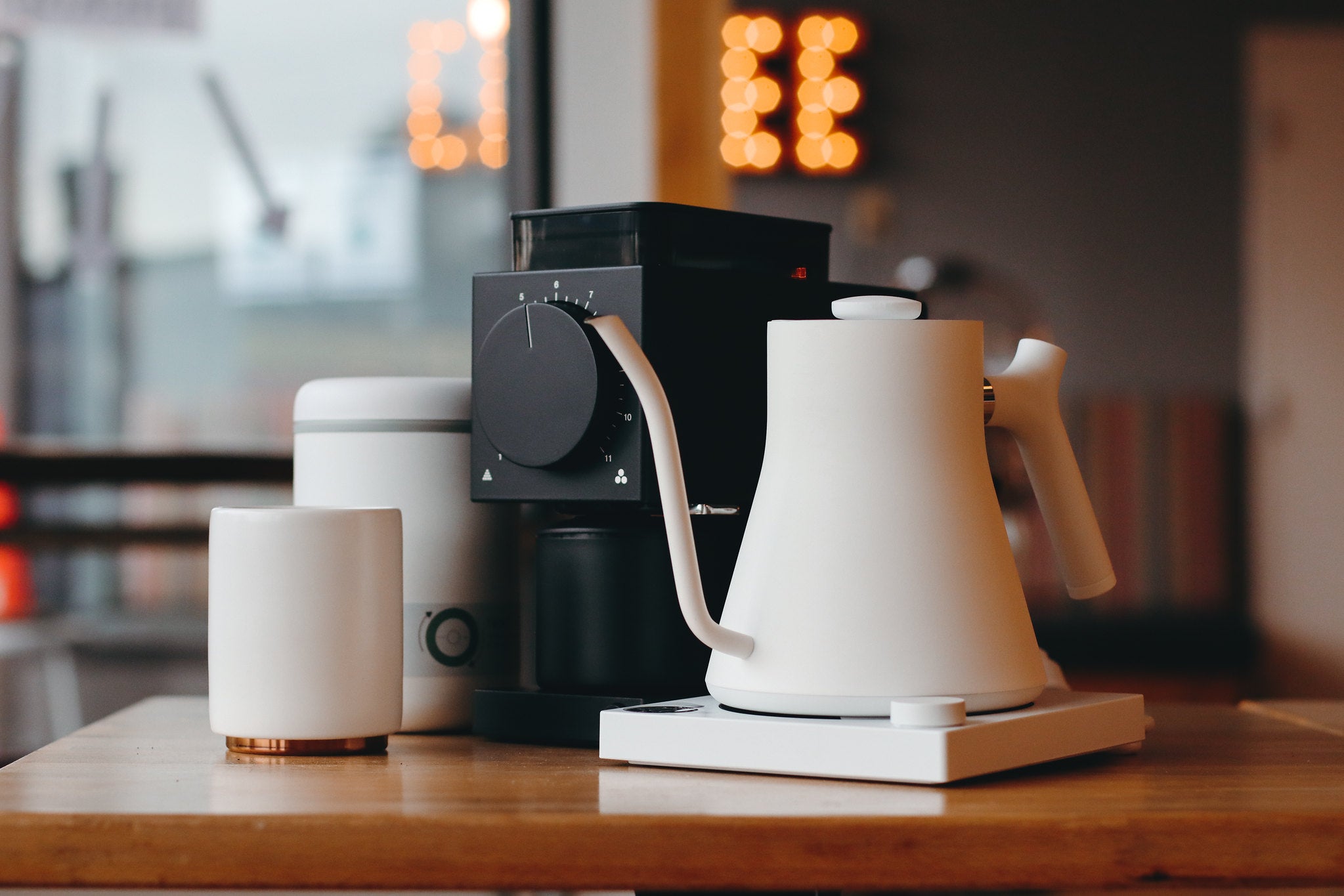 Are you looking to make improvements to your home coffee set-up but don't know where to begin? There are many products on the market that claim to make the perfect cup, but which is best for you and your lifestyle? We wish to offer you our expert, unbiased recommendations on brewing equipment and accessories to make your coffee at home taste as good as it would in our cafés. 
Purchasing whole bean coffee and
grinding your beans fresh
is the single biggest improvement you can make to your home brewing set-up. There are many grinders on the market at a huge range of prices. If you are ready to invest, you will want to invest in a burr grinder, that is, a grinder that crushes the whole beans between burrs, rather than chopping it up as a blade grinder will do. Both grinders are an improvement on pre-ground coffee, but burr grinders provide uniform grind particles, the key to a well extracted cup of coffee.
When choosing a grinder for brewed coffee, there are a few things to consider:
How many cups a day are you brewing?
Is good coffee a passion, necessity or both? 
The first 2 questions will help to answer the 3rd, what are you willing to spend?
The perfect grinder for someone looking for delicious coffee that fits nicely in your backpack or neatly stored in your kitchen drawer. The Porlex mini II has a compact, sturdy design with a removable grind cup to keep your freshly ground coffee neatly stored.With an upgraded easy to use per click burr adjustment for dialing in your aeropress' or pour overs. It features high quality ceramic burrs that provide uniform grind particles, the key to a well extracted cup of coffee. You will get a little workout each time you grind a cup, about a minute's worth of cardio, worth noting if you are a multiple cups a day person or making coffee for friends! 
Arguably the gold standard for entry level brew grinders, the Encore has been one of the most reliable grinders on the market for years. While the features appear a little basic, that is all made up for in the quality of grind, and the taste that is evident in your cup! Suitable for all brew methods other than espresso, the burr set is also upgradable to their top end set, which is a nice option. Grind time is around 5-7 seconds per cup and that is neatly contained in a securely fitted grind bin, saving your kitchen from mess! The Encore is a little loud but comparable to its rivals. 
The Ode grinder is a statement piece in your kitchen!  When you unbox this grinder the quality is evident. Solid construction, attention to details and quiet and uniform grinding are all standout features of the Fellow Ode grinder The grind adjustment dial is pleasing to use, the grinds fall neatly into a secure magnetic grind cup below the chute. The lid of the bean hopper has  a grind legend  for reference and the grinder has an auto off feature after all the beans have been ground. The Ode is compact and fits neatly under your kitchen cabinets. You may almost have as much joy using this grinder as drinking the coffee itself! Ideal for making your kitchen look fancy and brewing all your favourite brew styles 
Pro tip: Whatever grinder you use, add a kitchen scale to your set up. Weigh out  the beans you will brew with and only add those beans to the grinder. You will get a consistent quality coffee each time!