Equator Releases its First Premium Gesha Coffee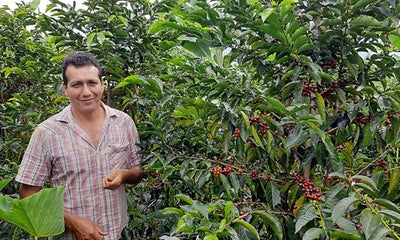 Coffee
Community
Farmer Stories
Equator Coffee Roasters releases its first premium Gesha coffee - a microlot grown by Homer Alarcón Gayoso in Jaén, Peru. Gesha, a varietal (as in, a specific variety or type) of Arabica coffee is famous for its outstanding quality unlike any other. Typically fruit-forward, with notes of lemon, stone fruit and floral jasmine, this type of coffee defies the common belief that "coffee is coffee." Give it a try and you will see that the depth and complexity of coffee are on full display in this special bean. 
Let's take a moment to explore what Gesha* coffee is and what puts it "above and beyond" in every category.
*(for those already familiar but wondering why we chose the "Gesha" spelling as opposed to the "Geisha" spelling, please see this article!)
The Gesha coffee varietal was originally 'discovered' in Ethiopia in the 1930s. European colonizers recognized how special it was back then though it took over 30 years for the bean to gain the massive popularity it enjoys today. In 2004, Gesha made its official specialty coffee debut and set astonishing records at the Best of Panama coffee auctions where exclusive coffees are traded for exorbitant prices, like fine pieces of art. In those years, the average bid on specialty coffees was $3.28 USD per pound. The winning bid for a Gesha coffee was a whopping $21.00 per lb, a price unheard of at that time. In 2018, a Gesha coffee broke the record with $803.00 per lb at the Best of Panama auction. By then, Geshas were showing up all across North America in Third Wave cafes and had become a badge of honour for artisanal coffee roasters.  
This modern "discovery" launched the Third Wave Coffee Movement into Indiana Jones-esque expeditions to look for the most rare, most obscure coffee, Gesha coffee being the Holy Grail in the early 2000s. Coffee roasters would visit origins and purchase highly-specialized coffee directly from a producer, a practice often referred to as "Direct Trade". That never fit in the model of trade that Equator follows (i.e. working directly with small scale farmer cooperatives to deliver the most amount of benefit for the community). So for many years, we passed on the opportunity to buy and roast Gesha coffee.
This year, however, everything changed when Equator's importing cooperative, Co-op Coffees managed to secure a Gesha coffee microlot (extremely small batch of green coffee) from one of the co-ops we have been working with since 2010: Sol y Cafe. After cupping (i.e. taste testing and scoring) the coffee, our co-op's quality lab was astounded by it; it was unlike anything they'd ever tasted from Northern Perú and more like a coffee from Yirgacheffe. This incredibly special and unique coffee was grown by two neighbour farmers in the community of el Nogal. Their names are José Jeinner Cubas Vásquez and Homer Alarcón Gayoso. 
Here at Equator, we bid for some of Homer's premium microlot of Gesha coffee and got it to our warehouse in April 2021. We are so excited for you to taste it! We kept the roast nice and light to make sure the roast highlighted all the nuance and fruit-notes of this coffee. Described as exceptional coffee by our Roaster, Justin Francis, this coffee is peachy, with notes of lemongrass and a honey-like sweetness and mouthfeel. The flavor lingers with vanilla and citrus.
A LITTLE BIT ABOUT HOMER, the man behind these beans
Homer Alarcón Gayoso is a young coffee farmer - only 41 years old! But he's had lots of experience: he is a second generation coffee farmer and has been producing coffee since he was 18 years old. He was born in the community of San Lorenzo in the district of San José del Alto in Jaén, Cajamarca and lives with his wife and their three young children. 
In 2006, he joined the Cuenca del Paramillo producer association, which is a member organization of the Sol&Café cooperative. All of his coffee is grown organically and fair trade certified. He processes it all as washed coffee (as opposed to unwashed/sundried or honey processed) and dries it carefully and meticulously under the sun on raised drying tables, ensuring the highest quality.
This coffee is extremely limited and best enjoyed fresh so don't wait! This is the most exclusive coffee we have offered at Equator so if you are looking to try something new or gift something special to a coffee-loving friend, this one's for you. It will be available to purchase in the cafés and online April 15th, 2021.
If you wish to learn more about Gesha coffee, check out this
video
or read more
here
.