Buy Coffee = Plant Trees with our latest Coffee for a Cause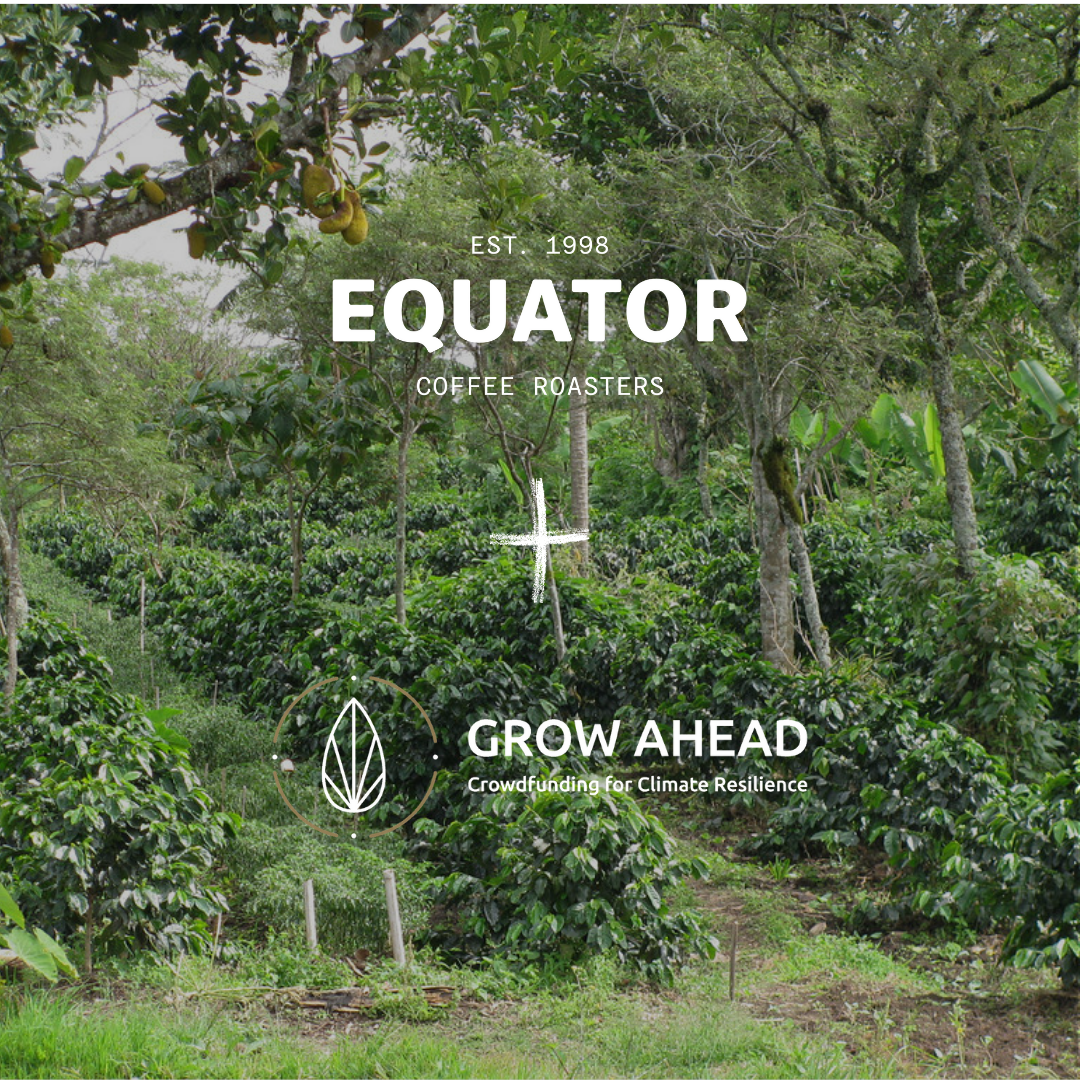 "Coffee for a Cause" is a campaign that raises money for a charity or cause whose mission we believe in. It's simple: for each cause-focused coffee released in the series, we donate $5 of every bag sold, to the preselected charity. During the campaign, customers are also welcome to top up their donation at the cafés and online. 
Buy Coffee = Plant Trees
For this release, we're partnering with Grow Ahead, an organization that helps farmers plant trees in coffee-growing regions of the world. "Agroforestry" is a type of reforestation that is unique. By planting trees together with crops, farmers do more than "just" offset carbon: their farms are healthier which means their coffee yields are higher which means their income increases which benefits their families and communities. For every dollar raised, Grow Ahead is able to plant one tree on coffee farms. So when you purchase a bag of Coffee for a Cause: Climate Coffee, you fund the planting of 5 trees!
The Partnership
Equator is teaming up with Grow Ahead to support a community-led reforestation project with COMSA in Honduras. COMSA is our coffee producing partner co-op located in Marcala, Honduras. As a co-op, they are innovative leaders not only in organic growing practices and innovative sustainable farming of quality coffee but also in community support and social justice. 
COMSA's goal is to plant 40,000 trees to combat climate change and support coffee production. And to complete the circle, Coffee for a Cause: Climate Coffee is 100% fair trade, organic Honduran coffee from COMSA. When you purchase Climate Coffee, you are directly supporting the coffee farmers who produced the coffee AND helping to plant trees on those same coffee farms! Read more here.  
Why trees? 
Planting trees is an effective and essential tool to combat climate change. From cleaner air to healthier soil, planting trees is a holistic and impactful way to offset carbon emissions. Trees capture carbon, clean air, produce oxygen, and offer a sustainable, renewable resource.
When it comes to agroforestry,  it's not just about the "offset;" this kind of conscientious tree planting provides an "inset" in which the coffee farm gains value and nutrients from the types of trees being planted. It also addresses community needs and allows small scale farmers to improve their incomes, increase their yields, and take great care of their farms.
For more about how planting trees can help fight climate change, visit Grow Ahead. 
What Your Contribution Means 
Buy coffee = plant trees. It's that simple thanks to organizations like Grow Ahead. When you purchase a bag of Coffee for a Cause: Climate Coffee, you fund the planting of five trees in Honduras. Those trees are fighting climate change, creating rich soil for crops to thrive in, and improving the livelihoods of the coffee producers. 
To top up your donation, you can add a donation to your cart here. You can also make a donation in person at our cafés.
Who is Grow Ahead?
At its core, Grow Ahead connects small-scale farmer organizations with the resources they need (tools, funding, transportation, seedlings, etc.) to plant trees and promote healthy soil, healthy people, and healthy crops. 
Grow Ahead develops local partnerships with small-scale farmer organizations to fund community-led projects that address the local challenges of climate change. Through these partnerships, these organizations have the resources and education to plant trees in agroforestry systems that go on to support community food security and reduce carbon dioxide in the atmosphere, also known as carbon sequestration. 
Grow Ahead programs also boost the economic resilience of farmers by diversifying their income sources. Despite strong market prices for organic and fair trade products, farmers need support and investment to shift to a resilient, regenerative future.